'IDRA' is an ancient and massive fig tree that bears the world's sweetest fruits.​​​​​​​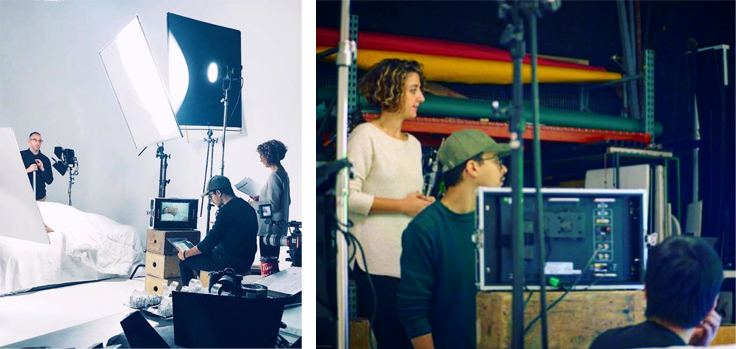 We are
Atefeh and Raghed
, a team of award-winning filmmakers who believe in magic. 
With a history of working in cinema producing creative and commercial content, we founded IDRA in 2020 to connect directly with our clients and showcase our work. Here's our showreel!
IDRA is proudly based in the heart of Toronto.
We currently have multiple projects in the works as we continue to create advertising and creative content. For more information on what we do,

send us a message!
Atefeh Khademolreza |  Director, Producer, Animator
Atefeh is an accomplished film director, producer, and animator who has worked locally and internationally, directing multiple fiction films, documentaries and experimental films that have screened and won accolades globally. Atefeh has also directed and produced commercials for brands such as l'Oreal Paris and for local markets in Canada and abroad.
Atefeh is an alumnus of the Berlinale Talent Campus and the Asian Film Academy (Korea).
EDUCATION
+ Master's in Film Production, York University - 2019
+ Master's of Arts in Animation Directing, Sooreh University - 2019
+ Certificate of Filmmaking, Asian Film Academy (Korea) - 2008
+ Bachelor's in Cinema Directing, Sooreh University - 2005
NOTABLE AWARDS
+ 
Reelworld E20, Toronto, 2019
+ 
Best Film & Best Directing - "Birthday", Festival Internacional de Cinema da Figueira da Foz, Portugal 2019
+ 
Best Short Film - "Birthday", 7th Indian Cine Film Festival, 2019
+ Ontario Graduate Scholarship Award
 - "Birthday", York University
2018
+ Fellow at International Student Film Camp, Serbia, 2015
+ Berlinale Talents Campus, Berlin 2006

Raghed Charabaty  |  Director, Producer, Editor
Raghed is an experienced film director, producer, and sound designer who has directed a number of award-winning films and documentaries. He
 is also a musician and composer who plays the piano and the guitar, and has a love of colouring and title design. Raghed also builds creative titles and posters.
Ray is a TIFF Canada's Top Ten 2016 alumnus and winner.
EDUCATION


+ Master's in Film Production, York University - 2019
+ Bachelor's in Film Production (minor in Art History), NSCAD University - 2016
NOTABLE AWARDS


+ CGM Scholarship in Honour of Nelson Mandela - "Of Sand and Gold", SSHRC 2018 
+ Best Cinematography - "Yasmine", Lebanon International Short Film Festival, 2017
+ Best Student Short Film (2nd Place) - "Alia", Toronto International Film Festival, 2016
+ Best Student Short Film - "Alia", Festival du Nouveau Cinéma, 2015 
+ Starfish Art Award - "Alia", NSCAD University, 2015